These avocado chocolate mousse parfaits with graham cracker crust is what you need for some guilt-free indulgence. Made with our Mini Honey Grahams. Photo and recipe created by Healthy Nibbles & Bits.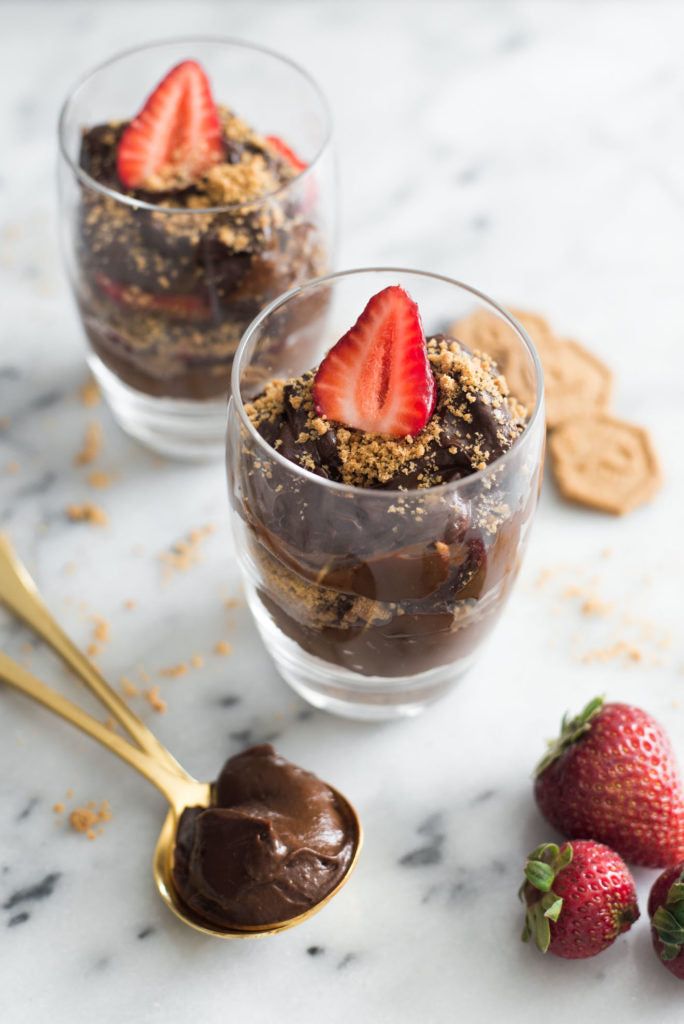 Yield:

2 ripe medium avocados (about 410g)
½ cup (50g) unsweetened cocoa powder
6 to 7 TBS maple syrup
¼ cup (60ml) low fat milk
2 tsp pure vanilla extract
1 cup Pamela's Mini Honey Grahams (about a small handful)
6 to 7 medium strawberries, hulled and sliced
Cut open avocados in half and remove the pit. Scoop the flesh out of the avocado and add to a food processor. Add the cocoa powder, maple syrup, milk and vanilla extract. I used 6 tablespoons of maple syrup, but you can add another tablespoon if you want a sweeter mousse. Blend until smooth.

Scoop mousse into a container and refrigerate for 30 minutes to an hour. The refrigeration helps thicken the mousse.

Add mini grahams into a sandwich bag and seal it. Crush the graham crackers by using a rolling pin or a glass.

Assemble the parfaits by adding 2 tablespoons of graham cracker crumbs into a cup. Alternate with layers of chocolate mousse, sliced strawberries and graham cracker crumbs to build the parfait.

Serve immediately. Refrigerate leftovers for up to 2 days.

Notes:

Because the honey grahams are already sweet, I used less maple syrup (6 tablespoons). If you want a mousse that is sweeter, add another tablespoon of maple syrup, but I wouldn't add any more than that.