Granny Smith apples add a touch of tart flavor to your pancakes.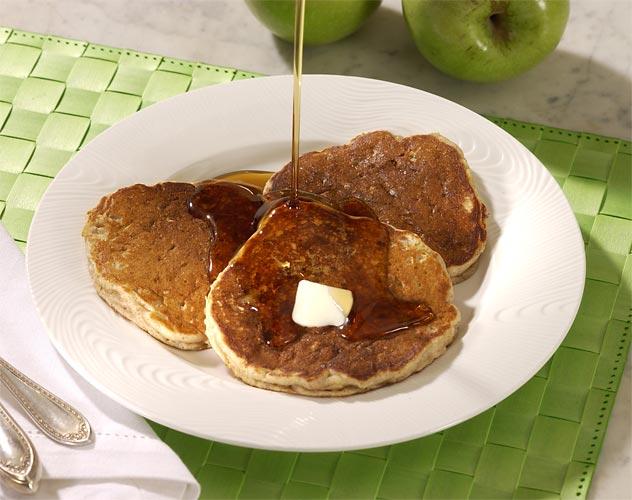 Yield: about 10 pancakes.

1- 1/2 cups Pamela's Baking & Pancake Mix
1/4 cup sugar
1 tsp ground cinnamon
1/2 tsp ground ginger
1 cup milk
2 tbsp butter, melted
1 tsp vanilla extract
1 egg
1 grated Granny Smith apple, (approx. 3/4 cup)
In a bowl, mix dry ingredients, then add melted butter, egg, vanilla and milk, and mix. Do not over mix. Add grated apple and stir just until combined. Batter will be lumpy and slightly thick.

Heat a griddle on low to medium. Lightly spray the griddle with nonstick spray. It takes longer to cook these, so use a lower heat. The pancakes will have a darker look from the spices. Pour about 1/4 cup of batter on the griddle, per pancake. Cook until bubbles form on top and the batter is set, about 2 minutes. Flip the pancakes and cook until golden brown on the other side, about 2 minutes more.

A great hint is to use a pizza cutter to cut pancakes up for your small children.

© Pamela's Products, Inc.