Thick, golden waffles topped with sweet, sticky caramelized apples. Recipe and photo created by One Sweet Mess.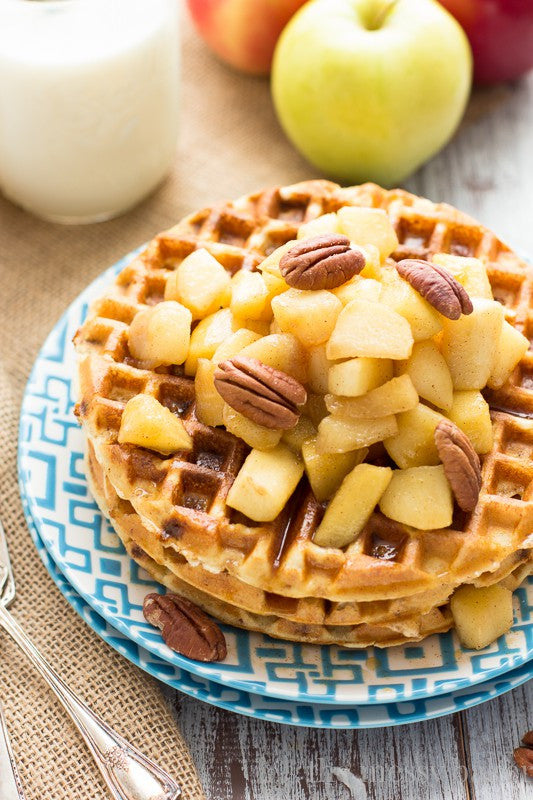 Yield: 4 (7-inch round) Waffles

1½ cups Pamela's Baking & Pancake Mix
1 tablespoon granulated sugar
⅓ cup cinnamon chips
2 eggs, separated
½ teaspoon vanilla extract
1 tablespoon canola oil
¾ cup milk
3 tablespoons unsalted butter
4 apples, peeled, cored, and diced
3 tablespoons brown sugar
¼ teaspoon cinnamon
¼ cup toasted pecans, roughly chopped
TO MAKE THE WAFFLES: Preheat waffle iron.
In a medium-sized bowl, whip egg whites until stiff.
In a separate bowl, whisk together pancake mix, sugar, and cinnamon chips.
Add egg yolks, vanilla extract, canola oil, and milk to the bowl. Whisk until smooth. Gently fold in the egg whites.
Spray your waffle iron with non-stick baking spray. Ladle 1/2 cup of the batter into the center of the waffle iron. Bake until golden brown, about 2 minutes.
Top with caramelized apples.
TO MAKE CARAMELIZED APPLES: Melt butter over medium-low heat in a non-stick skillet.
Add apples and cook until tender, stirring occasionally, about 8-10 minutes.
Stir in brown sugar, cinnamon, and pecans. Cook, stirring often, until the sugar dissolves and the mixture thickens, about 2 minutes.
© Pamela's Products, Inc.