This recipe was created by Autumn at Whole Food for 7! Check out the original recipe on her website. Follow her on Instagram at @wholefoodfor7.
A cake roll is a fun twist on a classic cake without a lot of extra work. It's an easy option that is perfect for a special event and everyone is always impressed with the beautiful frosting swirl. Don't like mint? Use 1 teaspoon vanilla extract instead in the frosting.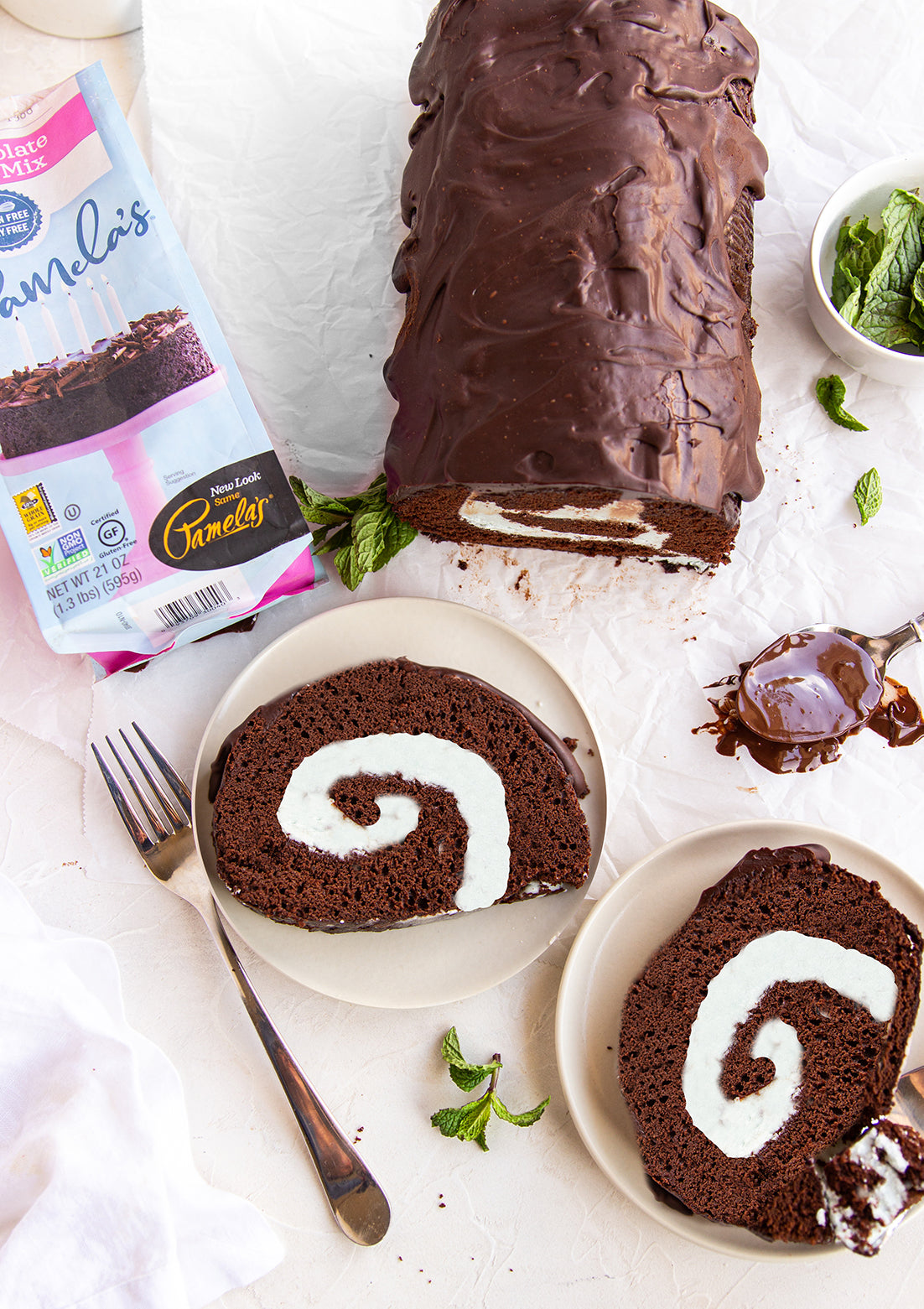 Yield:

CAKE

2 large eggs
½ cup oil
1 ½ cup water
Powdered sugar for sprinkling

FROSTING

4 cups powdered sugar
¼ cup soft ghee
¼ cup almond milk, more if needed, or other dairy-free milk
½ teaspoon mint extract
Natural green food coloring, optional

GANACHE

1 cup dairy-free chocolate chips (about 6 ounces)
¼ cup dairy-free milk of choice
Preheat oven to 350 degrees. Line a 10x15 inch jellyroll pan (a baking sheet with rimmed edges) with parchment paper. Spray parchment paper with cooking oil.
Make cake batter according to package directions. Spread out evenly in the prepared pan. Bake for 15-17 minutes or until the top bounces back when touched.
As soon as the cake comes out of the oven sprinkle the top with powdered sugar and then cover with parchment paper. Holding the edges of the pan and the top parchment paper, quickly flip the cake upside down and out of the pan. Remove the parchment paper that the cake was baked in.
To create the roll, from the narrow end of the cake roll up the cake, rolling the parchment paper inside of it. Once rolled, set aside on the counter and let cool fully.
While the cake is cooling, make the frosting. Combine all frosting ingredients in a large mixing bowl. Mix with a mixer on low speed until combined and then high speed for 1 minute. Frosting should be thick but spreadable. Add more milk if needed to thin down, one tablespoon at a time.
Once the cake is cooled, carefully unroll. Spread with frosting and then roll back up, not rolling the parchment paper into it this time.
In a small saucepan, make the ganache by combining the chocolate chips and milk over low heat. Stir continuously for 2-3 minutes, or until chocolate is melted and smooth. Spoon this over the top of the cake roll and refrigerate for at least 30 minutes
© Pamela's Products, Inc.
RECIPE NOTE
Note: If cake roll cracks when you unroll it, don't worry - it can be fixed! Do your best to still frost the inside of the roll, trying as much as you can to not frost the cracks, and then tightly roll the cake roll back up. Freeze for at least 30 minutes and then follow the above steps to create the ganache. Spoon the ganache over the visible cracks.