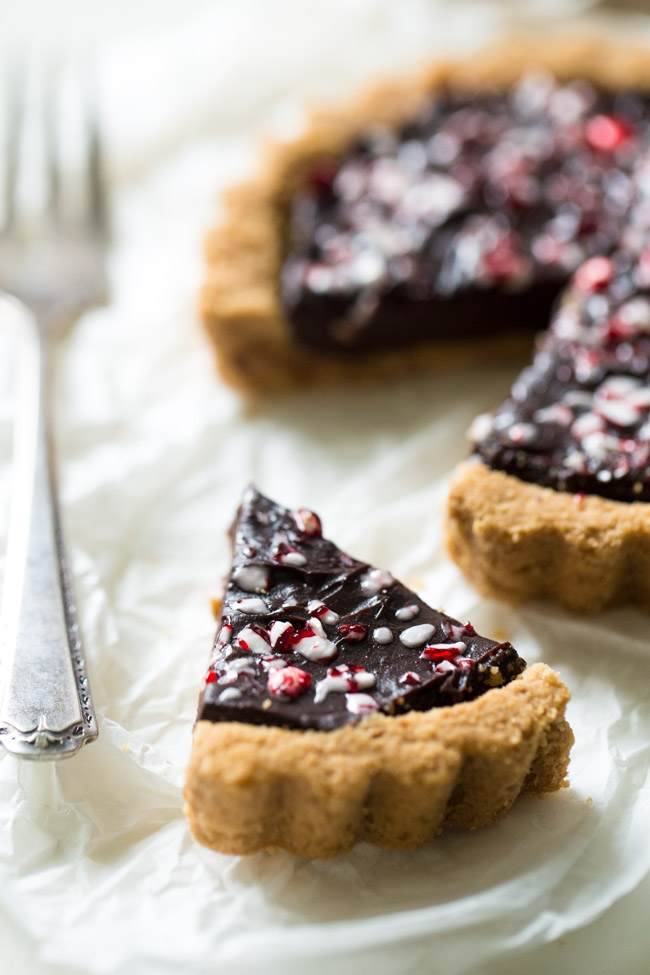 Yield:

Crust

3/4 cup + 1 Tablespoon softened butter, divided
1 package of Pamela's Sugar Cookie Mix
1 egg

Filling

3/4 cup avocado, mashed (about 1 1/2 large avocados)
1/2 cup + 1 Tablespoon unsweetened cocoa powder
3/4 tsp vanilla extract
1/2 tsp peppermint extract
1 cup milk chocolate chips, melted
Crushed candy canes, for garnish
Heat your oven to 350 degrees and lightly grease 2 cookie sheets.

In a large bowl , combine the softened butter, mix, and egg. Stir together until a soft dough forms.

Place the dough between two sheets of parchment paper and roll out about 1/4 inch thick.

Cut the cookies using whatever shapes desired (or as squares, as you are going to be crushing them up) and place on the prepared baking sheets. Bake until the edges of the cookies just begin to go golden brown, about 10-12 minutes. Let cool completely.

Once cooled, add the cookies into a large food processor * and crush until they form fine crumbs.

Measure out 2 packed cups of the crumbs, and pour them into a large bowl. Add in the remaining 5 Tbsp of softened butter and, using your hands, combine until crumbs form.

Place about 6 Tbsp of the crumbs into 4 tart shells and press down evenly. You want the base of the tart to be thin, with nice thick sides to ensure that they won't crack off when the tarts are baked.

Bake until the tarts are lightly golden brown, about 13-14 minutes. Let cool completely **

Once cooled, place the avocado into a food processor and blend until smooth. Then add in all the remaining ingredients, up to the candy canes, and process until smooth and well combined.

Divide the filling evenly between the tart shells, very gently spreading out evenly. Sprinkle with crushed candy canes.

Place into the refrigerator until set, at least 2 hours.