This crisp recipe is easy, sweet, spicy, and delicious, with the sugary-tart taste of apples (or basically any fruit you like). Best of all, this apple crisp recipe is completely gluten-free and Paleo-friendly. Recipe and Photo created by K.C. Cornwell of
G-Free Foodie
.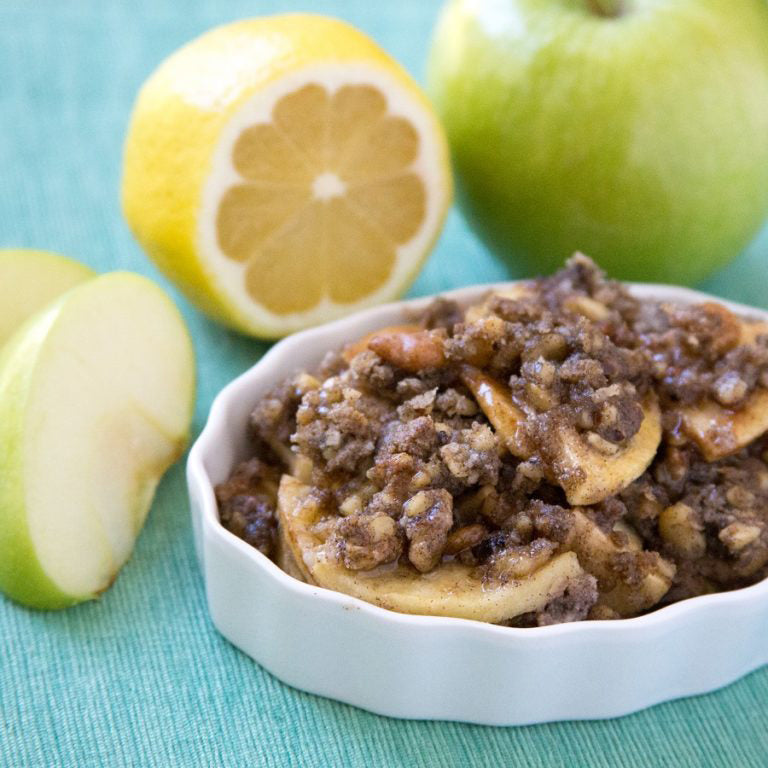 Yield:

5 cups apples, peeled and sliced
2 TBSP lemon juice
4 TBSP maple syrup, divided
1 TBSP vanilla
2 TBSP tapioca starch
1½ tsp cinnamon, divided
½ tsp salt, divided
1 cup walnuts, chopped
½ cup coconut, grated or finely shredded
½ cup Pamela's Coconut Flour
¼ cup butter or coconut oil, melted
Preheat oven to 350 F

Lightly grease a 9 or 10-inch deep dish pie pan or cast iron skillet.

In a large bowl, combine apples, lemon juice, 1 TBSP maple syrup, vanilla, tapioca starch, 1 tsp cinnamon and 1/4 tsp salt until well mixed. Pour apple mixture into prepared pan, scraping down sides to get all the juice into the pan. Add walnuts, coconut, coconut flour, butter or oil, and remaining maple syrup, cinnamon and salt into the same large mixing bowl and stir to thoroughly combine. Crumble this mixture evenly over the apples. Bake for 25-30 minutes, until apples are bubbly and top is golden brown.