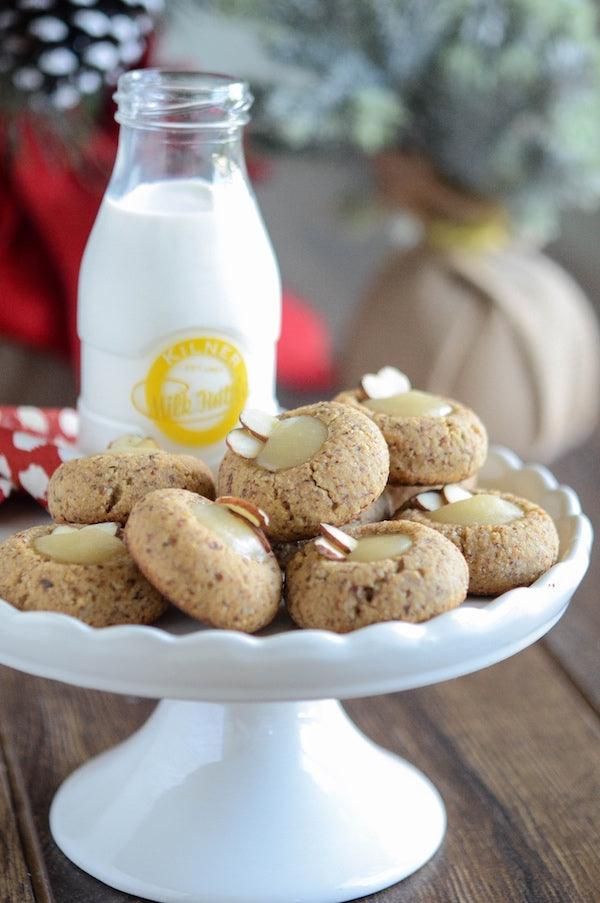 Yield:

2¼ cups Pamela's Nut Flour Blend
1 teaspoon baking powder
½ teaspoon salt
⅔ cup honey
⅓ cup canola oil
1 large egg
1 teaspoon almond extract
1 teaspoon vanilla extract
1 tablespoon butter, softened
¼ cup honey
sliced almonds, for garnish
Preheat oven to 350°F. Line two baking sheets with parchment paper or nonstick baking mats.

In a large bowl combine nut flour blend, all-purpose flour, baking powder and salt; stir until just combined. Set aside.

In a large bowl, whisk together honey, canola oil, egg, almond extract and vanilla extract until well combined. Add the wet ingredients to the dry ingredients; beat to combine. Refrigerate the dough for 1 hour.

Roll 1 tablespoon of dough into 1-inch balls and place on the prepared baking sheets about 2 inches apart. Press the tip of your index finger in the center of each cookie to make an indentation.

Bake the cookies, in batches, until set and barely golden on the bottom, 12 to 14 minutes. Transfer to a wire rack; let cool for 30 minutes.

Combine honey and butter in a small bowl until creamy. Use about 1/2 teaspoon to fill each cookie and top with 2 sliced almonds, if desired.