These savory buckwheat crepes are hearty enough for any meal!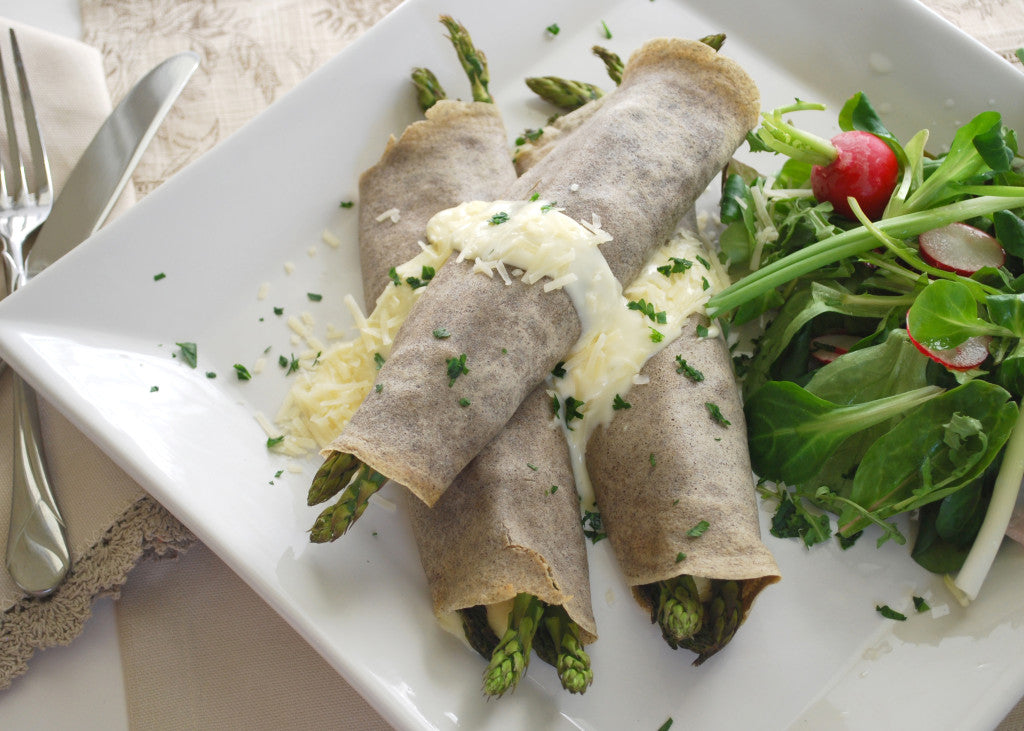 Yield:

Ten prepared Buckwheat Crepes
2 bunches asparagus, steamed or grilled to just done

Mornay Sauce

2 TBSP butter
1 cup milk
1TBSP shallots, finely minced (optional)
1 egg yolk
2 TBSP cream
2 TBSP grated Parmesan cheese
2 TBSP grated Gruyere cheese
salt and cayenne to taste
Follow directions to make Savory Buckwheat Crepes.

Melt butter in medium saucepan. Add flour (and shallots if using) and whisk to combine; cook on low about 3 or 4 minutes. Slowly add the milk, whisking constantly to avoid lumps. Cook until smooth and thickened. Combine the yolk and cream and stir a little of the sauce into the yolk cream mixture, then stir that back into the saucepan. Cook until heated through, add the cheeses and stir until sauce is smooth and cheese is melted completely. Season to taste with salt and a little cayenne.

Makes about 1 ¼ cups sauce or enough for 2 TBSP sauce per crepe if using all 10 crepes. You can double the recipe for sauce and have ¼ cup sauce per crepe if you like a lot of sauce.

TO ASSEMBLE: Lay out one crepe, place a few asparagus spears in the middle, drizzle with about 2 to 3 TBSP sauce, roll and place in greased baking dish. Continue until all crepes are filled.

Preheat oven to 300°. Cover crepes lightly with foil and bake about 25 to 30 minutes, until crepes and filling are hot. Serve immediately.

© Pamela's Products, Inc.