This recipe was created by Autumn at Whole Food for 7! Check out the original recipe on her website. Follow her on Instagram at @wholefoodfor7.
With only 6-ingredients, 20 minutes hands-on prep time, no-bake, gluten-free, grain-free, egg-free, and refined sugar-free, these handheld chocolate peanut butter sandwiches are sure to be a family favorite!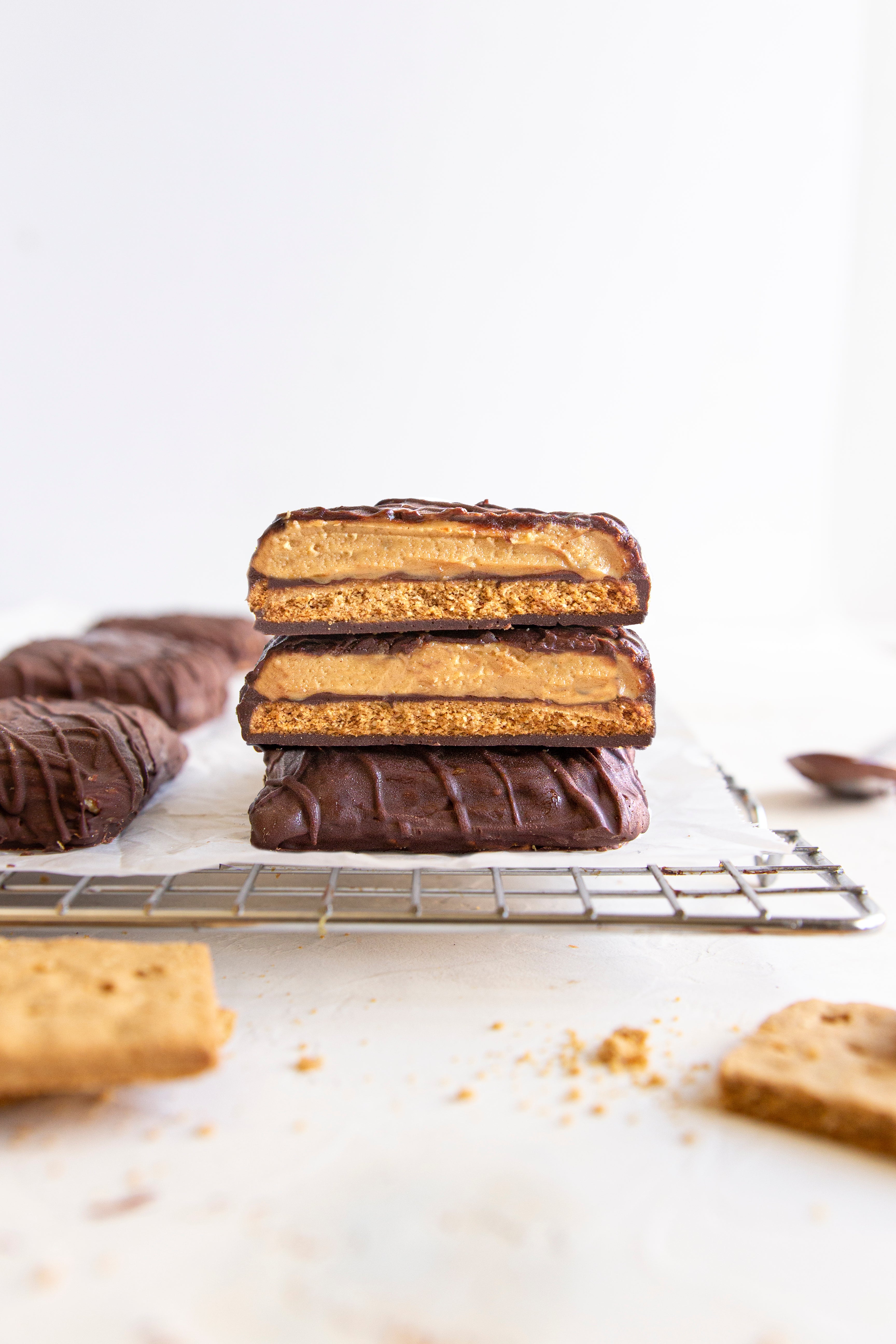 Yield:

6 crackers Pamela's Honey Graham
2 cups dairy-free mini chips, divided or 12 ounces regular-sized chocolate chips
3/4 cup creamy peanut butter see notes for nut-free option
3/4+ cup powdered monk fruit sweetener or powdered sugar use powdered monk fruit sweetener for Paleo option. May need more powdered sugar if using peanut butter with thinner consistency, see note in instructions.
1 teaspoon vanilla
1 1/2 tablespoons ghee
Line a tray or pan that will fit in your freezer with parchment. Spray parchment with cooking oil and set aside.
In a small pan on the stove over low heat, melt 1 cup chocolate chips, stirring continuously so it doesn't burn. When all the chips have melted and chocolate is smooth and creamy (about 3 minutes), remove from heat.
Dip each graham cracker in the melted chocolate and then set on the prepared pan. This will get a little messy but is worth it! See the notes for the bar method instead if you don't want to hand dip. Repeat dipping with all 6 crackers. Put in the freezer for 5 minutes until solid to the touch.
While chocolate-covered grahams are freezing, in a medium mixing bowl combine the peanut butter, sugar, vanilla and ghee on low speed with a mixer until combined. Then whip at a high speed for 1 minute.
NOTE: I wrote this recipe with thick, creamy peanut butter. If you are using thinner all-natural peanut butter, add additional powdered sugar 1 tablespoon at a time until peanut butter mixture has the texture of a thick frosting. Mixture should not be drippy or thin.
Remove chocolate covered grahams from freezer and divide the peanut butter mixture evenly among the 6 grahams, a little over 2 tablespoons each. Place back in the freezer and freeze for 10 minutes.
While graham crackers are freezing, melt the remaining 1 cup chocolate chips over low heat, stirring continuously, until smooth and creamy as before.
After the 10 minutes, remove graham crackers from freezer and brush or spread the melted chocolate over the top and of the graham crackers. Make sure all of the peanut butter mixture is well covered by chocolate. I found this easiest with a pastry brush or the back of a spoon.
Place graham crackers back in the freezer one more time, for 5 minutes or until the chocolate on top is solid to the touch.
Completed sandwiches are stable at room temperature, though we prefer them right out of the fridge. Store in the fridge for up to 2 weeks or freezer for up to 3 months.


© Pamela's Products, Inc.
RECIPE NOTE
NUT-FREE: Use sun butter and see the note in the instructions about adding additional sugar, as sun butter tends to be thin in texture. Check our Autumn's website for the No-Dip Bar Method!